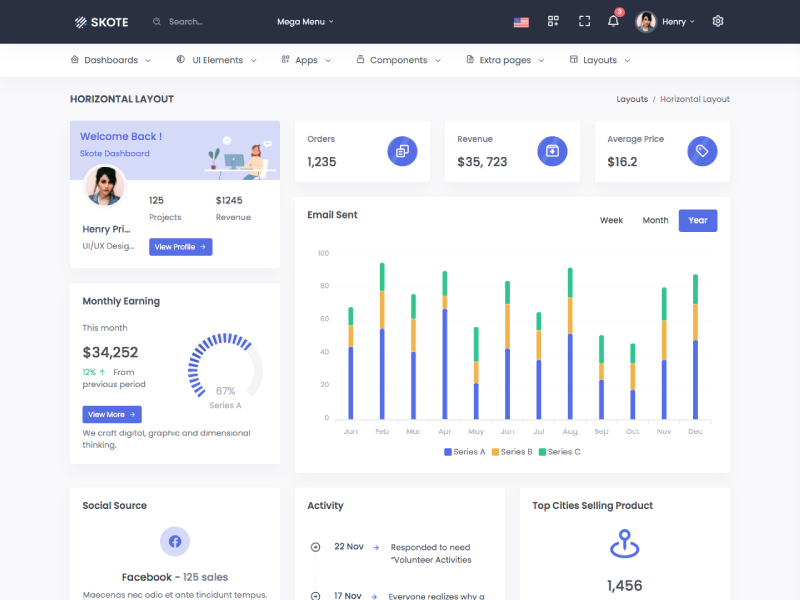 Skote is Bootstrap 5 Template Admin that offers a comprehensive range of features and benefits to developers. It is a sleek, modern, and minimalistic design with light and dark layout options, RTL support, and multilingual capabilities. With Skote, you can create a variety of web applications such as eCommerce, CRM, project management apps, and admin panels, among others.
Skote is fully responsive, making it perfect for use on any device. Whether you prefer to work with HTML or Laravel 9.x, Skote is the ideal starting point for your next project. It comes with reusable components and plenty of new design widgets that work seamlessly across all screens.
Bootstrap 5 Template Admin Layout
In addition to its many design options, Skote also features six different types of layout to choose from. Changing any layout is a breeze, and it can be done by modifying just a few lines of code, thanks to Skote's use of scss variables. The code is written to be both standard and developer-friendly, with a focus on enhancing performance.
Finally, Skote allows you to customize your color scheme, either by changing the sass color variable's value or by creating an entirely new color scheme file. In short, Skote is a top-of-the-line admin dashboard template that is perfect for developers looking to save time and streamline their projects.