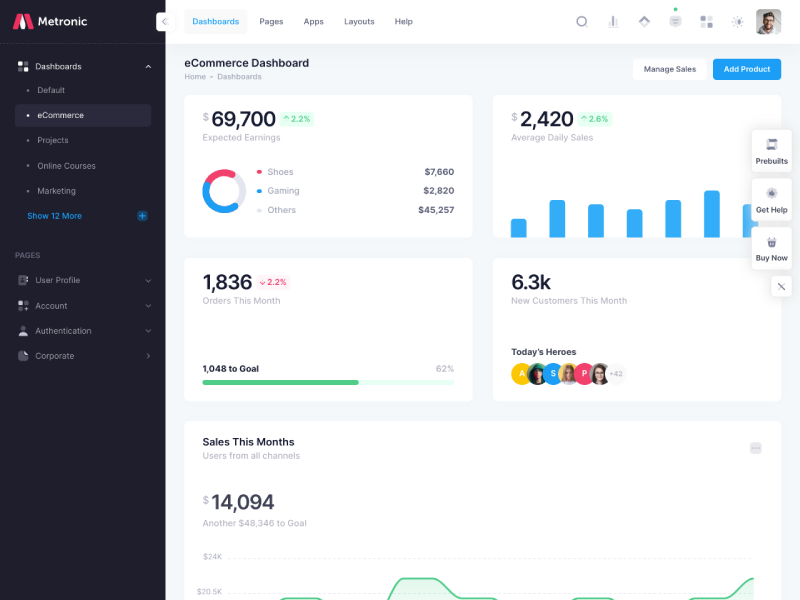 Metronic Dashboard is a responsive admin dashboard template powered by Bootstrap 5. It is designed to help developers create modern and professional-looking web applications quickly and easily. The template comes with a variety of pre-built pages and components, such as charts, tables, forms, and widgets, that can be customized to suit the specific needs of the project.
Metronic Dashboard also offers a range of advanced features, such as RTL support, multi-language support, and responsive design, making it a versatile option for developers who want to create high-quality, responsive, and user-friendly web applications.
Metronic Dashboard Features
Metronic is a powerful and feature-rich admin dashboard template that offers a wide range of features to developers. Some of the key features of include:
Responsive Design: Metronic is designed to work seamlessly on all devices and screen sizes, ensuring that your web application looks great and functions well on desktop, tablet, and mobile devices.
Customizable Layouts: The template offers a variety of pre-built layouts that can be easily customized to suit the needs of your project. This includes options for different header and sidebar styles, as well as options for boxed or full-width layouts.
Multiple Color Schemes: Metronic comes with multiple color schemes, giving you the flexibility to choose a color scheme that best matches your brand or project.
Advanced UI Components: The template comes with a range of advanced UI components, including charts, tables, forms, maps, and more, making it easy to add functionality to your web application without having to build everything from scratch.
Built-in Applications: Metronic also comes with a range of built-in applications, including email, calendar, and chat applications, which can be easily integrated into your project.
RTL Support: The template offers right-to-left (RTL) language support, making it suitable for projects that require support for languages such as Arabic, Hebrew, or Farsi.
Cross-Browser Compatibility: Metronic is compatible with all modern web browsers, ensuring that your web application will work well for all users regardless of their browser preferences.
Lifetime Updates: The template comes with lifetime updates, ensuring that your web application stays up-to-date with the latest design and functionality trends.