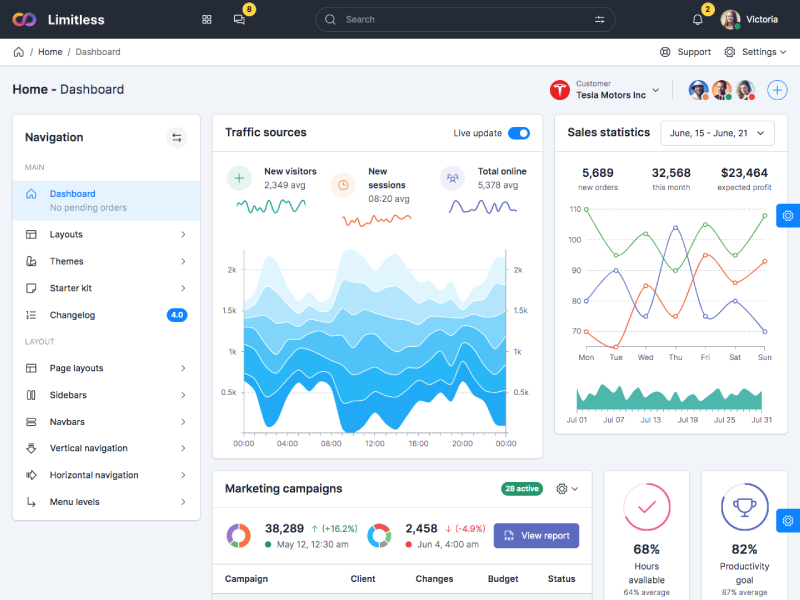 Limitless is a new professional dashboard bootstrap 5 template built on the reliable Bootstrap framework. This powerful tool is incredibly flexible and suitable for any type of web application. It boasts a main layout and three alternative layouts, over 1000 commented HTML pages, and more than 1000 components with various features and options. Plus, with 100+ plugins and extensions, the possibilities are virtually limitless.
Limitless also includes a Starter Kit, a set of blank pages that simplifies a developer's work. The template is fully responsive, making it perfect for viewing on mobile devices and tablets.
This app kit is fully based on the LESS pre-processor and includes over 100 commented LESS files. Each file corresponds to a single component, layout, page, plugin, or extension. Thus, locating and modifying specific code snippets is a breeze. The package includes both normal and minified CSS files compiled from LESS.
The template is also translation-ready, so you can change the application's language on-the-fly and benefit from fallback languages, language detection, direct access, and other features. Examples are available via the main navigation.
Navigation is a powerful feature of this template. It supports both collapsible and accordion vertical navigation, as well as multi-level horizontal navigation with state-saving capabilities. Horizontal navigation is used in navbars and mega menus. Navbar components have been extended to support plugins and components such as form components, buttons, links, menus, and progress bars. The mega menu is also highly customizable, allowing you to choose any color, any width, and include any content.
Page and panel headers offer a variety of customization options and can include various components, all of which are optional. Therefore, you can easily remove them from stylesheets by deleting a single line in a LESS file.
Despite its many features, the overall design of the Limitless template is harmonious, clean, and user-friendly. The template is well-structured, commented, and divided, making it easy to navigate. Take some time to go through all the pages and check out the full list of features. You won't regret it!